Year One
The first year of the training program consists of core oncology rotations including:
Medical Oncology
Hematology (2 blocks)
Radiation Oncology (2 blocks)
Palliative Care (1 block)
The majority of the clinical experience in medical oncology takes place in the outpatient setting. Residents are assigned to tumour specific sites and spend 2-3 month rotations attending and participating in these clinics during the first year. Residents are also involved in providing in-patient consultation services according to the site-specific rotation.
Year Two
The second year of training includes:
NCIC CTG Statistical and Operations
Medical Oncology
In-patient rotations (2 blocks)
Research and other electives (up to 6 blocks)
During the in-patient rotations, the resident acts as a Junior Consultant on the ward working with internal medicine house staff and with attending staff back up.

The scheduled rotations provide the trainee with the opportunity to gain experience in all aspects of the practice of medical oncology and to interact with complimentary disciples including radiation, hematology, gynecology and surgical oncology, ENT, infectious disease and palliative care. The close affiliation and good working relationship with the host hospital ensures interaction and collaboration with internal medicine, surgical and radiology specialties.
Year Three
For residents interested in additional training, Queen's University also offers a Clinical Investigator Program (CIP). This program offers integrated clinical and research training and the opportunity to earn a graduate degree while completing residency. For more information, please visit http://meds.queensu.ca/education/cip.


NCIC CTG Statistical and Operations Office Rotation - NEW
The NCIC Clinical Trials Group is a cooperative oncology group which carries out clinical trials in cancer therapy, supportive care and prevention across Canada and internationally. It is one of the national programmes and networks of the Canadian Cancer Society Research Institute (CCSRI), and is supported by the Canadian Cancer Society (CCS).
The NCIC CTG has two main areas of study: investigational new drugs; and comparative randomized (phase III) trials. The NCIC CTG's role in investigational new drug trials is to provide a centralized focus of knowledge, expertise, and experience to help Canadian investigators compete successfully for access to promising and scientifically interesting new agents. The Phase III program develops and conducts randomized trials across the spectrum of adult malignancies.
The main objective of the rotation for residents is to be exposed to the operational aspects of study conduct from an Investigator perspective including but not restricted to:
Safety oversight
Regulatory oversight, quality assurance/monitoring
Protocol development and conduct
Ethics & compliance principles including consent document generation
Data Management; data compilation, checking, and analysis
This experience will provide exposure to the knowledge and skill base required for a clinical trialist to meaningfully participate in clinical studies in oncology, and will complement other activities such as the biennial NCIC CTG New Investigator Clinical Trials Course and the NCIC CTG Annual Spring Meeting of Participants
Current Residents and Fellows
CONGRATULATIONS TO OUR GRADUATING ONCOLOGY RESIDENTS!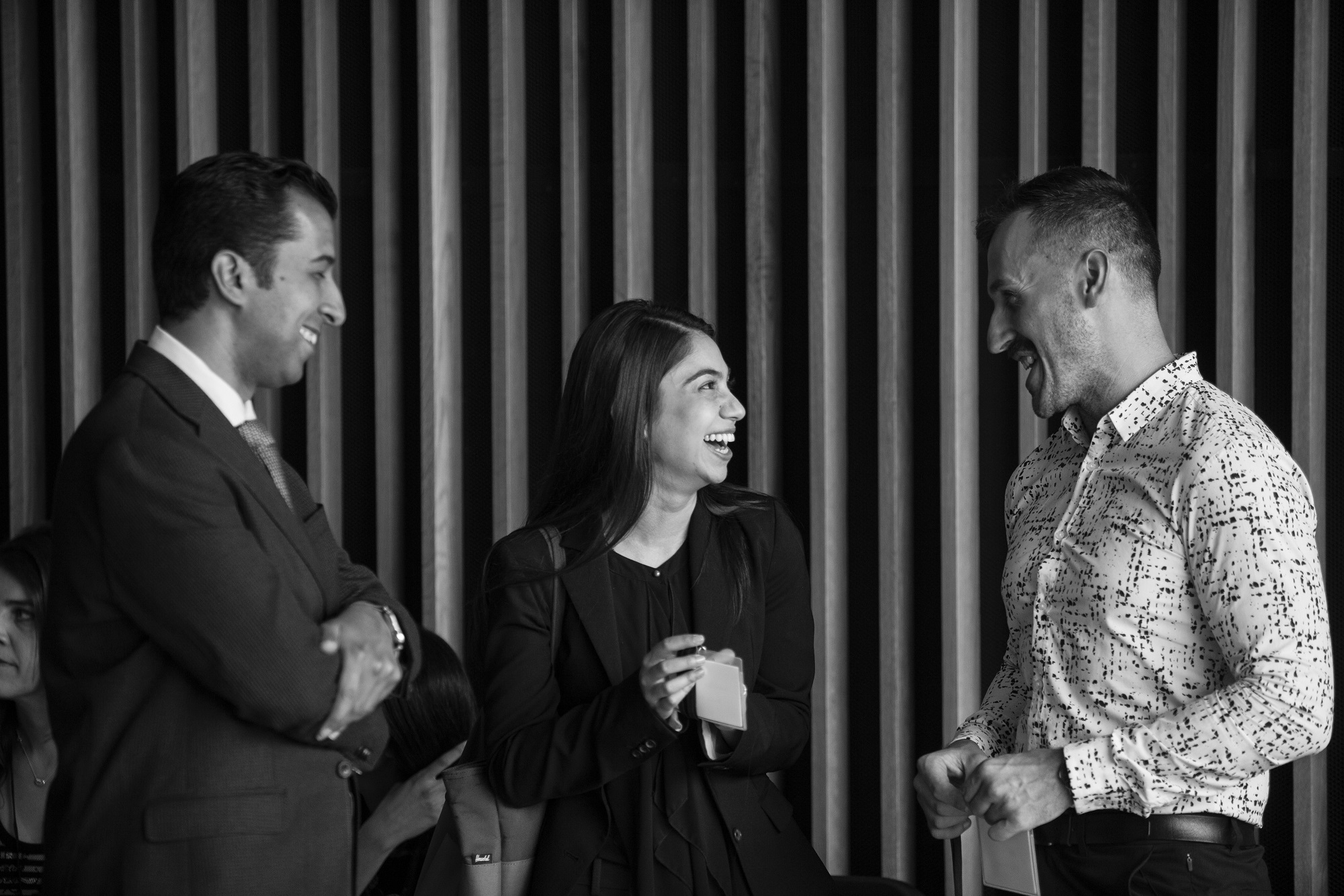 Dr. Joel Gray, Dr. Ambika Parmar and our Fellow, Dr. Bassam Basulaiman
Name: Bishal Gyawali

Post-Graduate Year: Clinical Fellow

Specialty: Medical Oncology

Medical School: Tribhuvan University, Nepal

PhD, Medical Oncology: Nagoya University, Nagoya, Japan

Medical Oncology: Nagoya University, Nagoya, Japan

Scholarly Interests:

Cancer policy and Biomarkers;
Cancer Groundshot: Developing a context-specific & needs based curriculum to train Primary Care Physicians in LMICs

Achievements:

ASCO Global Oncology Young Investigator Award;
Nepal Government Young Researcher Award

Name: Safiya Karim

Post-Graduate Year: PGY-6

Specialty: Medical Oncology

Medical School: University of Calgary

Core Internal Medicine: University of Saskatchewan

Medical Oncology: University of Toronto

Scholarly Interests: GI & Lung Cancer, Health-Services Research

Achievements: Karim S et al. Pembrolizumab for the treatment of thoracic malignancies: current landscape and future directions. Future Oncology 2016; 12(1):9-23.

Personal Interests: Yoga & long-distance running

Name: Ambika Parmar

Post-Graduate Year: PGY-4

Specialty: Medical Oncology

Medical School: University of Alberta

Core Internal Medicine: University of Toronto

Scholarly Interests: GU, Head & Neck Oncology

Achievements: Parmar A et al. Medical emergency team involvement in patients hospitalized with acute myeloid leukemia. Leukemia & Lymphoma 2013; 54(10):2236-42.

Personal Interests: Yoga, long-distance running & hiking

Name: Joel Gray

Post-Graduate Year: PGY-4

Specialty: Medical Oncology

Medical School: Université de Sherbrooke

Scholarly Interests: GI Oncology, Melanoma, HIV

Personal Interests: Volleyball, Cycling, International travel & cultural exploration

Name: Bassam Basulaiman

Post-Graduate Year: Clinical Fellow

Specialty: Medical Oncology

Medical School: King Saud University

Core Internal Medicine: Saudi Board in Internal Medicine

Medical Oncology: Saudi Fellowship in Medical Oncology

Scholarly Interests: GU, Breast & Lung

Personal Interests: Travel, learn about emerging technology and play football
Name: Ketan Ghate
Completed residency: 2017
Current Position/location: Medical Oncologist Oakville Trafalgar Memorial Hospital

Scholarly Interests:

Current Research Involvement:

Medical School: Ross University

About program:
_________________________________________

Name: Osama Souied
Completed residency: 2017
Current Position/location: Medical Oncologist, Allan Blair Cancer Centre, Clinical Assistant Professor at the College of Medicine, University of Saskatchewan

Scholarly Interests: Gastrointestinal Oncology, Genitourinary Oncology, Immunotherapy, Oncology Education

Current Research Involvement: Prostate cancer research (Real World Outcomes). Breast cancer research (Meta analysis). Pancreatic cancer research (Prognostic Markers)

Medical School: Beirut Arab University

About program: Great Mentors and excellent educators! Very supportive staff.
___________________________

Name: Negar Chooback

Completed Residency Year: 2016

Current Position/location: Medical Oncologist, Cancer Centre of South Eastern Ontario
Scholarly Interests: Lung Cancer and Immunotherapy

Current Research Involvement: Lung cancer, personalized oncogenomics, targeted therapy of lung cancer, lung cancer in nonsmokers and immunotherapy in lung cancer

Medical School: Ross University School of Medicine

About program: Great teachers and wonderful doctors but most of all best support staff who make the job easier!!
_____________________________________________

Name: Ravi Ramjeesingh
Completed Residency Year: 2013
Current Position/location: Medical Oncologist Halifax NS, Assistant Professor Dept of Medicine and Dept of Community Health and Epidemiology
Scholarly Interests: Medical Oncology education (faculty member of Oncologyeducation.com, NOYCIA), health service research in GI
Current Research Involvement: Pancreatic, rectal and breast cancer research, clinical trial development and medical education
Medical School: UofT
About the program: Great mentors and educators!
The program is committed to providing a wide range of research opportunities for residents. A research mentor is assigned to residents on entry into the program and residents are expected to have at least one research project underway by the second year.
One of the strong assets of the research component of the program is access to several internationally renowned cancer research groups based at the Queen's Cancer Research Institute (QCRI). Several members of these groups are also members of the Medical Oncology department.
The Division of Cancer Care and Epidemiology at QCRI is a cancer health services research unit comprised of clinician-scientists, epidemiologists, and biostatisticians. This multidisciplinary research group evaluates access to cancer services, the management and outcome of cancer in the general population, and public policy related to cancer prevention and treatment.
NCIC Clinical Trials Group (NCIC CTG) is a national research group that develops, conducts, and analyses multi-institutional trials of cancer therapy. Residents are encouraged to participate in the clinical research activities/meetings of the NCIC-CTG. This Queen's University based group is internationally recognized for its expertise in the design, conduct and analysis of Phase I, II and III clinical studies. The group has extensive experience in research pertaining to quality of life, clinical trials methodology and the economic analysis of cancer therapies. Members of this group participate in the clinical and educational activities of the Cancer Centre and are a willing resource for residents.
Kingston General Hospital
Kingston General Hospital (KGH) is a community of people dedicated to transforming the patient and family experience through innovative and collaborative approaches to care, knowledge, and leadership. As southeastern Ontario's leading centre for complex-acute and specialty care, KGH serves almost 500,000 regional residents through its Kingston facility and 24 regional affiliate and satellite sites. Fully affiliated with Queen's University, KGH was named as one of Canada's top research hospitals in 2011.

Patients with oncologic conditions requiring hospital admission are admitted to the Hematology Oncology service at KGH. This is a joint service that provides care for patients with both hematological and oncologic conditions. The unit consists of thirteen beds and is supervised by an attending physician from one of the above specialties. The primary care of patients is shared by residents, a General Practitioner in Oncology, and attending staff. Residents are involved in inpatient care throughout the year as well as during their Junior Attending rotation and when on call.
Cancer Centre of Southeastern Ontario
The Cancer Centre of Southeastern Ontario (CCSEO) is a world-class facility and many of its cancer specialists are recognized internationally for their expertise in cancer treatment and research. It is also an academic cancer centre, housing the Department of Oncology and playing a vital role in educating tomorrow's health professionals.
A major redevelopment of the CCSEO was completed in 2011. Its facilities were modernized and an additional 37,000 square feet was added to improve the patient and caregiver experience. Two new radiation treatment bunkers have been added, an HDR brachytherapy suite has been built, and the chemotherapy space has been increased from 15 treatment spaces to 39. Dedicated space for children with cancer was also created, in addition to separate areas for its palliative medicine and supportive care program.
Information for Internal Medicine Residents
Welcome to the Division of Medical Oncology. We hope you enjoy your block rotation with us. Please feel free to discuss any pertinent issues with any of our staff or our Chief Resident.
A copy of your schedule will be sent to you by email prior to your start date. Post call dates, IM resident clinics and confirmed absences through your home program will be included in this schedule. Should there be any discrepancies, please let us know. Dr. Hammad, the Medical Oncology Program Director will want to meet with you to discuss the goals and objectives as well as discuss your clinic and patient responsibilities. A time will be set up and you will be informed by email.
Our Chief resident, Kelvin Young will also like to meet with you to provide an information session. Please page him at 613-650-0110 to arrange a suitable time.
Also in your intro email, you will find an important checklist that is required to be complete and submitted on the last day of your rotation. Dr. Hammad will go over this checklist with you when you meet with her.
If you will be away or on call (and it's not already indicated on your schedule) PLEASE CONTACT THE SECRETARY OF YOUR ATTENDING PHYSICIAN AND MICHELINE McDONALD TO INFORM THEM OF YOUR UNEXPECTED ABSENCE.
Important info....
Please be advised that email correspondence will be done using your KGH account and not Queen's. Physicians may need to relay patient information and this can only be done using your KGH account. Please check it frequently.
Oncology uses a unique dialup number and worktype codes for dictations. PLEASE follow the instructions indicated on the back of your schedule to avoid any notes being lost in the system. This information is available as a separate print out (with your intro email) and on your schedule. Any questions or concerns regarding Oncology dictation, please call extension 6796.

About the rotation....
Your rotation will consist of of a mixture of treatment, follow-up and consults clinics. Trainees are involved in the assessment of patients and the development of an appropriate management and treatment plan.

You may also be asked to share the responsibility of the Chemo Emergency pager (613 650 3294). Although the primary responsibility for this will usually be with the MO residents, your help may sometimes be requested. This provides the additional educational opportunities of attending and managing urgencies/emergencies in the Chemotherapy Unit. If you are paged to the chemotherapy suite, your urgent attendance is required. The most common reason for being paged is a drug reaction (it is a good idea to read up on infusion/hypersensitivity reactions and treatment) but there are other medical emergencies (such as chest pain, shortness of breath etc) that also occur. You will not be alone and the attending staff physician will also be called at the same time. It is your responsibility to respond to pages promptly and proceed to the chemotherapy suite urgently. If you are in clinic with another physician, please notify them that you have been paged and will leave clinic.
About departmental rounds you should attend...
The Department of Oncology Rounds and Conferences are listed on our website www.oncology.queensu.ca
Oncology teaching sessions and multidisciplinary rounds are an important component of the rotation and resident participation is expected.
Residents will be expected to attend the Grand Rounds in Oncology** (Thursday mornings), the Medical Oncology Journal Club** (Friday mornings) and at least one multidisciplinary tumor board per week. Your email address will be added to the distribution list for the Friday morning Journal Club articles.
Residents will also be responsible for a presentation towards the end of the rotation. This could consist of either presentation of articles for Journal Club or a presentation on an oncological topic of the resident's choosing. A mutually convenient date for your presentation will be found. Some non-clinical time has been allotted on your schedule for you to prepare for your presentation.

** These sessions do not take place during July and August
About the evaluations...
Your evaluation will consist of feedback from each preceptor. Once finalized, it will be discussed with you by the medical oncologists that you've spent the most time with (in your intro) and submitted electronically through the Web-Eval system. Please arrange a suitable time for you both to meet to discuss your evaluation. For the mini-CEX evaluation, YOU MUST INFORM YOUR EVALUATOR AT THE BEGINNING OF THE CLINIC THAT YOU WOULD LIKE THEM TO OBSERVE AND COMPLETE THE EVALUATION. Otherwise, it will not be done.
Together with your staff attending, it is your responsibility to ensure that your evaluation and mini-CEX are completed. At the start of the rotation, please contact the physicians responsible for your evaluations to ensure a mutually convenient time is scheduled to do this. THIS IS CRITICAL - NOT ONLY FOR YOUR TRAINING BUT FOR FULFILLING YOUR PROGRAM'S MANDATE.

In addition, an end-of-rotation evaluation from you is equally important in order for us to make any necessary improvements to the rotation. One will be sent to you through the Wed-Eval system from your Program Administrator. Please complete and submit within 1 week of completing your rotation.

Should you have any questions or concerns, please do not hesitate to contact Micheline McDonald at extension 6647.